---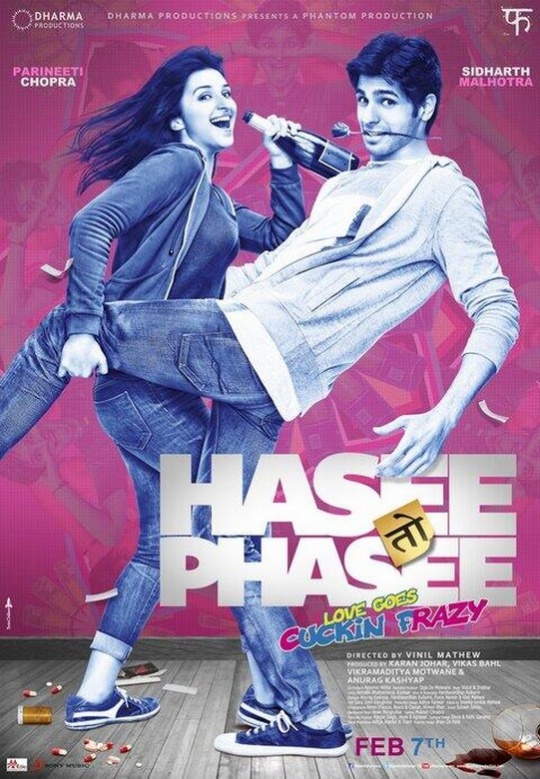 Now this one's a romantic comedy with a fresh casting of the talented duo Sidharth Malhotra and Parineeti Chopra.

Will this collaborative effort by Karan Johar and Anurag Kashyap win the hearts of the audiences this pre-Valentine's week and thereafter as well ?.

Our in-house expert and ace astro-numerologist Bhavikk Sangghvi predicts the fate of this Dharma Productions – Phantom Films joint venture:

"The title 'HASEE TOH PHASEE' adds up to Number 62 – this octave of Number 8 (Saturn) is one of the most unluckiest numbers as it indicates gravest warnings for the future and foreshadows disasters brought about by association with others; ruin by speculations, partnerships, unions and bad advice. If it comes out in connection with future events, one should carefully consider the path one is treading" explains Bhavikk.

"But wait !!!! (he continues without a pause)….

….before jumping to conclusions, right from the first poster of the film till date, the makers for some reason have used the fonts of the word 'Toh' in Hindi (it could be a creative/marketing decision or perhaps some astrological advice or may be just plain divine intervention) and hence the vibration of the title sums up to Number 46 which is one of the most powerful octave of Number 1 (Sun) and hence the film would click with its target audience (mainly youth frequenting multiplexes of big cities/town)" he adds.

"In any case, the year 2014 which adds up to Number 7 (Ketu) is likely to prove lucky for most Number 1, 2, 4 and 7 people, places, dates, names etc. and the film's release date – 7th February (7) along with the title vibration (46) will only work in its favour" he adds further.

"More importantly, the leading pair of Sidharth Malhotra (16th January 1985) and Parineeti Chopra (22nd October 1988) both fall in to this bracket directly. No prizes for guessing their chemistry will come in for much praise and appreciation from all quarters".

"Even the girl who forms the love triangle here, Adah Sharma (11th May 1989) will be a surprise package since she is primarily ruled by Number 2 (Moon) while her destiny number adds up to Number 7 (Ketu)".

"Last but not the least, presenter Karan Johar (25th May 1972) and co-producer Anurag Kashyap (10th September 1972) too fall in this category and seems like their joining hands will turn out to be a win-win kind of situation for everyone involved with this project" signs off Bhavikk on a positive note.
---
Bhavikk Sangghvi is a renowned astro-numerologist.
He can be reached at: www.bhavikksangghvi.com

---
Latest Star Gaze »
More Star Gaze ...
---