---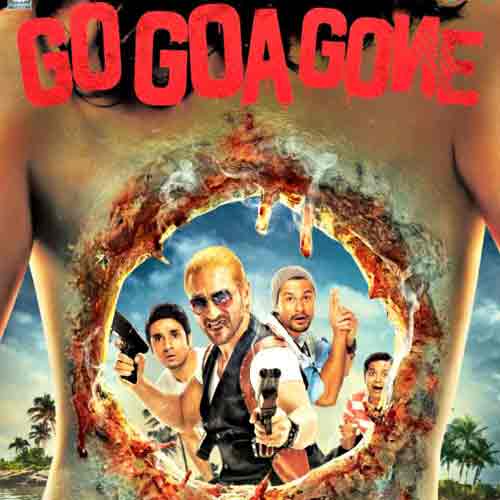 Move over rom-com's (romantic comedies).

Here comes India's first 'zom-com' (zombie comedy).

The promos and the music have already done the trick so far.

But the big question is – Will director duo Raj – D.K. succeed in handling a somewhat alien theme as far as Bollywood movies are concerned or shall fail to do so ?.

Our in-house expert and ace astro-numerologist Bhavikk Sangghvi predicts the fate of this Saif Ali Khan production:

"The title 'GO GOA GONE' is adding up to Number 41 – a lucky octave of Number 5 (Mercury) usually associated with combinations of people and nations. In such cases, the person should hold to their own judgment and opinions, if not, their plans are likely to become wrecked by the stubbornness and stupidity of others. But still it is a favorable number if it appears in connection with future events" explains Bhavikk.

"As per the numerological meaning derived, it clearly means that this film will 'click' and will definitely appeal to its main target audience, especially youngsters visiting multiplexes in metros and bigger towns/cities" predicts Bhavikk.

"Also, the year 2013 which adds up to Number 6 (Venus) is likely to prove lucky for most Number 3, 6, 8 and 9 people, places, dates, names etc. and the 'destiny' number which arrives from the film's release date – 10th May 2013 is Number 3 (Jupiter) – the planet of wealth and prosperity".

"Plus, the 'destiny' number of the film's main protagonist Saif Ali Khan (16th August 1970) is Number 5 and that goes perfectly in sync with the title vibration (41). Being in his 43rd year, Saif's luck is in its best shape and he will win praises galore from all quarters for his 'khooni' act as an Indo-Russian Mafioso. And yes, he will be laughing all the way to the bank as a producer too" he adds.

"Besides that, Numbers 1, 2, 4 and 7 are considered to be a 'family' of numbers and both his co-actors Kunal Khemu (25th May 1983) and Vir Das (31st May 1979) come under this category which means their combination will work wonderfully for the film and even Kunal and Vir will be equally appreciated for their performances. Not to mention their superb comic timing" he adds further.

"Last but not the least, female lead Puja Gupta (6th July 1988) is directly a Number 6 (Venus) person and in her 25th year her luck will only help the film and boost up her career as well".

"All said and done, get ready to be 'scared' and have a 'hearty' laugh at the same time in this one helluva film. Just go for this 'killer' trip !" signs off Bhavikk on a 'dead sure' note (pun intended).
---
Bhavikk Sangghvi is a renowned astro-numerologist.
He can be reached at: www.bhavikksangghvi.com

---
Latest Star Gaze »
More Star Gaze ...
---