---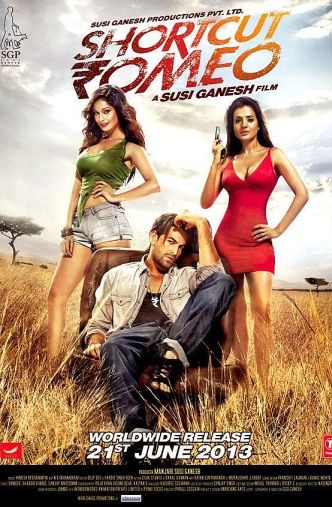 Now this one's a romantic crime thriller which is a remake of the director's own hit Tamil film.

Will director Susi Ganeshan be able to make a 'shortcut' (pun unintended –successful) debut in Bollywood as well or whether it will be short lived ?.

Our in-house expert and ace astro-numerologist Bhavikk Sangghvi predicts the fate of this Neil-Ameesha-Puja Gupta starrer:

"The title 'SHORTCUT ROMEO' is adding up to Number 59 – a lucky octave of Number 5 (Mercury) usually associated with combinations of people and nations. But in such cases, the person should hold to their own judgment and opinions, if not, their plans are likely to become wrecked by the stubbornness and stupidity of others. Still, it is a favorable number, if it appears in connection with future events" explains Bhavikk.

"As per the numerological meaning derived, if director Susi Ganeshan has adapted the Hindi version by staying true to the original script without bending down to commercial diktats, he will have a decent film to offer on hand" predicts Bhavikk.

"Also, the year 2013 which adds up to Number 6 (Venus) is likely to prove lucky for most Number 3, 6, 8 and 9 people, places, dates, names etc. and the film's all three protagonists – Neil Nitin Mukesh (15th January 1982), Ameesha Patel (9th June 1975) and Puja Gupta (30th January 1985) fall in to this bracket directly" he adds.

"Plus, the release date of the film 21st June 2013 is a day primarily ruled by Number 3 (Jupiter) – the planet of wealth and prosperity, but alas…!" he adds quickly.

"…it does not gel well with Number 5 (title vibration) and hence the clash will create a major dent in its business".

"As far as performances go, all the actors will be quite earnest in playing their individual parts with utmost sincerity and shall do full justice to it".

"But as far as box office is concerned, this 'Shortcut Romeo' shall have a 'short' life at the ticket widows" signs off Bhavikk on a clear note.
---
Bhavikk Sangghvi is a renowned astro-numerologist.
He can be reached at: www.bhavikksangghvi.com

---
Latest Star Gaze »
More Star Gaze ...
---